1/9/21 – Updated and expanded the content in the original post. In the above video Steve Bannon discusses with Peter Navarro and others, last night's Big Brother Tech Purge and the most significant attack on our First Amendment in America's history. Bannon's War Room Ep 644 is now banned from Big Brother YouTube, so we're linking to it on the Free Speech video platform Rumble.
1/8/21 – Talk about a wild week! This will be a week that goes down in infamy. Wednesday, January 6th started with a massive Save America March which began as a peaceful Trump Rally but ended in tragedy as some agitators turned violent at the Capitol resulting in fatalities. Then in the wee hours of Thursday morning, Vice President Pence betrayed the President by certifying the Electoral College, despite a number of state legislatures requesting in writing more time to re-certify their electoral votes to address overwhelming evidence of alleged election fraud in contested states.
Well, that was just warming up the week. On Friday January 9th, 2021, Big Brother Tech Giants, including Twitter, Facebook, YouTube and Amazon went on a wild purging feeding frenzy where they began blocking, censoring and deleting conservative user accounts across the country. They began by deleting President Trump's call for peace video and posts.
Then they deleted all President Trump's social media accounts.
So President Trump tweeted on his official POTUS account about the freedom of speech, and the tweets were immediately deleted.
"As I have been saying for a long time, Twitter has gone further and further in banning free speech, and tonight, Twitter employees have coordinated with the Democrats and the Radical Left in removing my account from their platform, to silence me — and YOU, the 75,000,000 great patriots who voted for me. Twitter may be a private company, but without the government's gift of Section 230 they would not exist for long.

I predicted this would happen. We have been negotiating with various other sites, and will have a big announcement soon, while we also look at the possibilities of building out our own platform in the near future. We will not be SILENCED!

Twitter is not about FREE SPEECH. They are all about promoting a Radical Left platform where some of the most vicious people in the world are allowed to speak freely.

STAY TUNED!"

– President Trump's last tweet from POTUS Twitter Account
Let that sink in for a minute…
Social media companies now feel emboldened enough to censor and ban the President of the United States to shut him up. The left hasn't even taken power yet and we have already lost the First Amendment and our Freedom of Speech in the United States of America. God help us all.
After deleting President Trump, these corrupt tech oligarchs then started blocking, banning and deleting user accounts and content from conservative users across multiple platforms. Many users then fled these Big Brother propaganda platforms for the free speech alternative, Parler. So Apple and Google are now colluding to remove the Parler app from their app stores.
---
Smoke and Mirrors Veil their Leftist Propaganda
Previously, the Big Brother tech giants had used disingenuous Fake News "fact check" tags to censor free speech with their leftist propaganda. But that didn't work because President Trump won the legal votes in a LANDSLIDE and the left had to cheat so much that they got caught. So, now they are using disingenuous claims of "inciting violence" to block and delete any conservative content that counters their leftist propaganda. This is obviously duplicitous because President Trump clearly called for peace before, during and after the rally, and Facebook actually deleted his video calling for peace falsely claiming that he was "inciting violence."
They also had no such issues with Fake News media and leftist politicians endlessly promoting protests that often burned, looted and rampaged through cities all summer long for months on end. Of course their problem with these accounts and content has nothing to do with "inciting violence." Their real problem is that they can't refute the truth, so they must instead try to block, ban and delete the truth that this was a stolen election until after January 20th. What they fear most is the truth getting out.
They are simply using the violence committed by a limited number of agitators at the capitol as an excuse to tar and feather anyone who supports President Trump and pushes for election integrity. This is just as they used the China virus as an excuse to illegally change voting rules allowing massive mail-in ballots while simultaneously eliminating voting security in order to flood the election with fraudulent votes.
The United States of America, the world's shining beacon for freedom of speech, has now been plunged into digital darkness. Welcome to Biden's Dark Winter, and he hasn't even taken power yet.
---
Amistad Project Shows Big Brother Facebook's Dark Money Contributed to the Election that Plunged US into the Digital Darkness of Biden's Dark Winter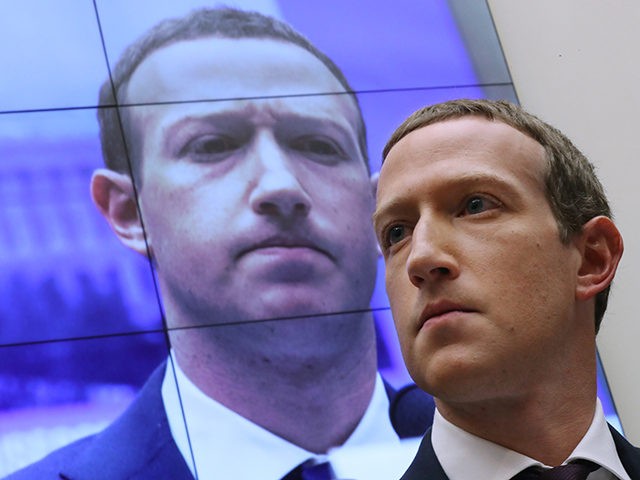 Congress shall make no law respecting an establishment of religion, or prohibiting the free exercise thereof; or abridging the freedom of speech, or of the press; or the right of the people peaceably to assemble, and to petition the Government for a redress of grievances.

– The First Amendment
While technically this Big Brother Tech Purge is not "Congress" passing a law to censor free speech, it is Big Brother Tech which practically bought the stolen election to take control of our government, that is censoring our speech.
Since in this day and age, and especially during the China Virus lock-downs, we often meet digitally, they are also preventing us from assembling digitally to petition our government to redress the grievances of an election which was likely stolen. The state legislatures of several contested states had requested in writing to delay the certification of the Electoral College so that they could investigate the overwhelming evidence of alleged fraud and re-certify their Electoral Votes. What they fear most is the truth! That truth! That this election was a likely fraud, and that we have an incoming #FakePresident. They also used the exact same method to likely steal the two remaining Georgia Senate seats, and thus they have gained control of two branches of our government.
If that were not true, then why would they prevent everyone from making that argument? If they were right, that the elections were legitimate, then they would simply show us by making their case. The only reason to prevent the argument itself is because they know that the argument being made is true and that they would lose on the merits. When people see the truth for themselves, they can make up their own minds about what to think. When the leftists prevent people from seeing the truth, then they can tell the people what to think instead. Just think about that.
So while not Congress directly, the end result is exactly the same, the death of our right to the Freedom of Speech and the censoring of any dissent that threatens their newly bought power.
"The Amistad Project of the Thomas More Society released a report Wednesday documenting the effect of donations by Facebook CEO Mark Zuckerberg to private-public partnerships that turned out the vote in key Democratic counties in 2020.

The report, titled "The Legitimacy and Effect of Private Funding in Federal and State Election Processes," alleges that when Zuckerberg gave money to government institutions to assist with elections during the coronavirus pandemic, the donations were targeted at Democrat-heavy areas in swing states with the specific purpose of tilting the election to Joe Biden."

– Joel B. Pollak, Breitbart
---
How to Survive the Dark Winter
I would recommend for everyone to take the next few days to download and archive offline any remaining content that documents evidence of the widespread election fraud and any other conservative content that will likely be purged. Then everyone should delete any accounts at the Big Brother tech giants of Facebook, Twitter and YouTube. If half the country abandons the Big Brother tech giants it will hit them where it hurts, on their bottom line.
They want to cancel us? OK, so let's all cancel them. Your cancels and boycotts work. Just look how the ratings plunged for all the sports that went "woke" this year. We cut FoxNews ratings in half when they took a hard turn left. We boosted NewsMax and OAN instead. Boycott anyone who censors the truth or pushes leftist propaganda. Reward anyone who is not afraid to speak the truth without censorship.
Replace Big Brother Facebook with Free Speech MeWe. Replace Big Brother Twitter with Free Speech Parler [NOTE: Parler will be down for a few days due to Big Brother Amazon pulling down their servers off AWS] or Free Speech Gab, Replace Big Brother YouTube with Free Speech Rumble. And stop searching on Google! They are censoring and feeding you leftist propaganda. Replace Google with DuckDuckGo. If anyone has other suggestions please add them to the comments section below. Once on those new social media platforms be sure to create a bookmark to their websites to use as a backup in case their apps are deleted. You can always access them via the web, even on mobile devices.
From here on out treat all social media as temporary and archive all content offline. If possible set up your own website or blog. Post your content there and then just share it to the social media. That way if the social media is deleted, your original content remains intact on your own website/blog where you are in control, not Big Brother.
When following favorite sites likes ours on social media be sure to click through to the actual websites and bookmark or subscribe directly to the sites/blogs. That way if you lose access through social media you can still enjoy your favorite content. Also don't forget email. You can share content with each other via email. But beware of email hosted by any of the Big Brother Tech Giants. They most likely monitor everything and could censor that as well. Use smaller hosts or your own website host when possible.
Always be on the lookout for sites, services, companies and products who defend and promote our freedom of speech. When you find such valuable offerings please support them!
"In a world awash in lies, the truth is as precious as gold."

– PatriotBites
Welcome to the Dark Winter of the Brave New World. Hopefully spring will come soon!
---
If You Enjoyed this Post PLEASE SHARE IT!
Let us know with a comment below, subscribe to our blog, visit our sponsors and bookmark and use our Amazon.com link the next time you buy anything on Amazon!
We may earn a small fee from the links on this site, at NO additional cost to you.
THANK YOU FOR YOUR SUPPORT!
– PatriotBites.com