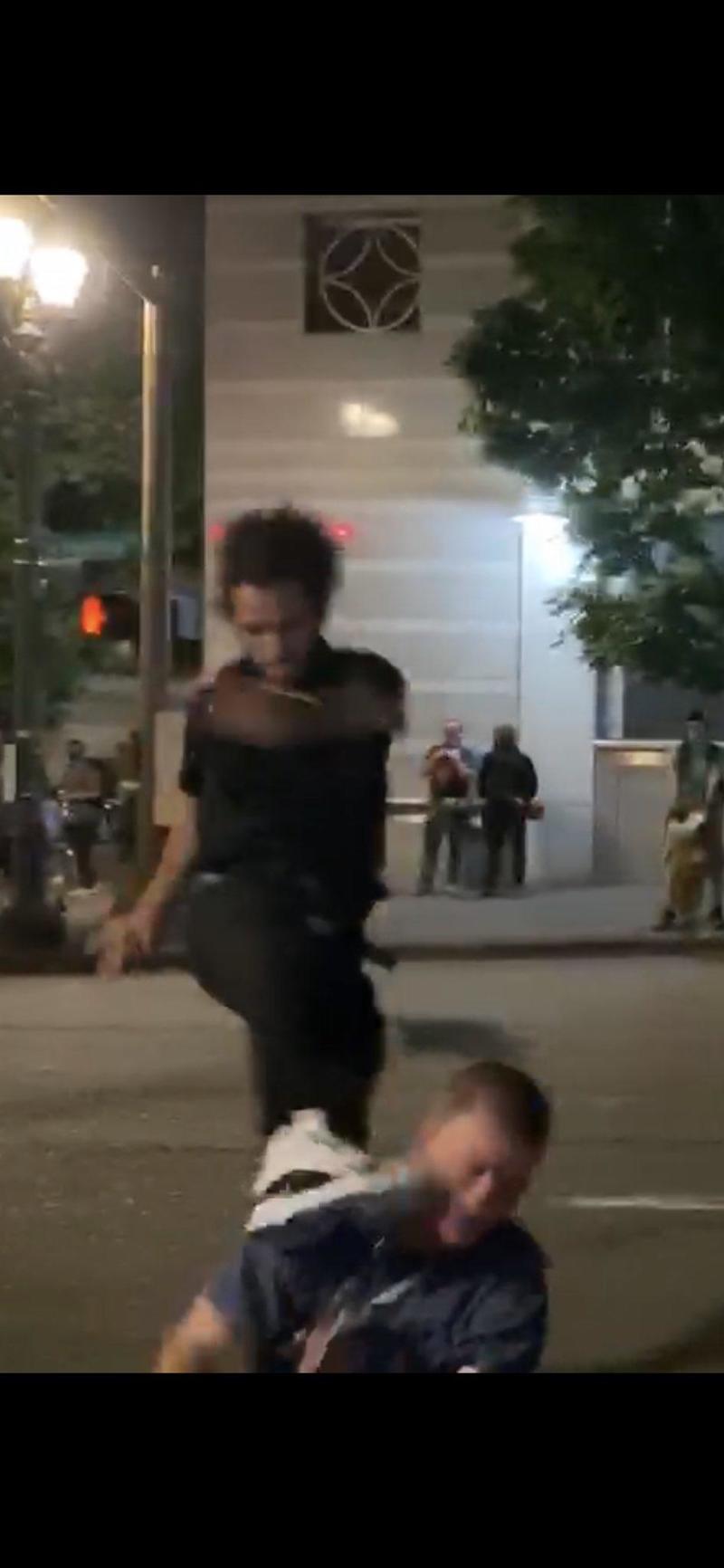 Portland Oregon – There's a manhunt underway for Keese Love for apparently spreading too much BLM peace and love. A video has surfaced (above) showing how Love sucker kicked a dazed Good Samaritan in the head from behind while the white man was being peacefully beaten by a BLM mob of peaceful protestors. The white victim was lovingly knocked unconscious and peacefully left in the street. Investigators learned that the victim may have been trying to help a transgender female who had been peacefully robbed. Before being fully defunded the Portland PD, which apparently does not appreciate such public displays of affection, have launched a manhunt for the peaceful protestors. Because this was just another case of peaceful black on privileged white crime, and was counter to their prevailing narrative, most legitimate news organizations promptly ignored this story. -PatriotBites
---
More from Around the Web
MORE: Shared from Zerohedge
According to a Tuesday press release, officials have made several attempts to reach the 25-year-old suspect, and that they have probable cause for his arrest according to Fox News.
Shortly before 10:30 p.m. on Sunday, police responded to a 911 call from someone who reported that protesters "chased a white Ford" four-by-four truck, which then crashed in the downtown area, according to a department press release. Protesters then dragged the driver out of the vehicle, one caller stated. Another told police an estimated nine to 10 people began "beating the guy," the caller stated. –Fox News
---
Portland police identify suspect, 25, behind vicious attack on truck driver who was kicked unconscious on the street when 'protesters' chased his vehicle after he tried to stop someone getting robbed
MORE: Shared from DailyMail.co.uk
Drew Hernandez, who filmed the incident on his cell phone, has spoken of his experience of being in Portland on Sunday night, saying 'sometimes it feels like you're walking in a Third World country'

'I think he just felt extremely threatened,' Hernandez said in an interview. 'They chased him… until he finally crashed. When they finally caught up to him, they went nuts.

'This was violent, extremely violent,' he said. 'Sometimes I forget I'm walking the streets of an American city in the Northwest. Sometimes it feels like you're walking in a Third World county.'

Earlier footage shows the truck parked outside a 7-Eleven, with some rioters kicking it and attacking the man through the window, as others shout, 'He didn't do nothing.'

Hernandez said that after violence erupted on Sunday – which has become a nightly occurrence in the city – groups of protesters have attacked random bystanders.

'It's literally like just one thing after another,' he said. 'Just these random people, they start physically assaulting.'

– DailyMail.co.uk
… and BLM continues to spread peace and love across the nation…
---
If You Enjoyed this Post PLEASE SHARE IT!
Let us know with a comment below, subscribe to our blog, visit our sponsors and bookmark and use our Amazon.com link the next time you buy anything on Amazon!
We may earn a small fee from the links on this site, at NO additional cost to you.
THANK YOU FOR YOUR SUPPORT!
– PatriotBites.com