UPDATE 9/3/21 10PM In the above clip Real America's Voice's Heather Mullins joined Steve Bannon, Boris Epshteyn and John Fredericks on Bannon's War Room Ep. 1,231. Heather provided more details about what was found by True the Vote and how they were able to analyze the data. She explains how they were able to use cellphone ping data to identify and reconstruct specific routes showing certain cellphones traveled among batches of mail-in ballot drop-boxes multiple times. They were then able to use that data to analyze the video surveillance footage showing specific vehicles and even individuals pulling ballots from backpacks and stuffing them in drop-boxes, some even wearing gloves. They wrote custom software to help them identify the particular activity they were looking for in specific areas around the drop-boxes as well as key buildings such as UPS stores, government and non-government locations such as Democrat campaign headquarters. They have analyzed this data in multiple states including GA, AZ, PA, MI and WI.
John Fredericks explains how if any of this is true, it is totally illegal. They apparently have much of this on video clearly showing people stuffing the ballot boxes out of backpacks in the middle of the night. They apparently have videos of vehicles with license plates identifying specific vehicles traveling routes between 20 to 50 drop-boxes. They also apparently have corroborating evidence in the chain of custody transfer slips as well as some sworn affidavits from witnesses that attest to some of what is seen in the data and on video. They flooded the zone with mail-in ballots to people who rarely vote. Then they apparently collected those ballots and used them to stuff the ballot drop-boxes. They apparently never thought anyone would take the time or effort to go through all the video surveillance and piece together what they did.
---
GEORGIA – In the above video John Fredericks broke into Bannon's War Room to drop some explosive news this morning. Fredericks announced that they have video of a ballot trafficking operation of 240 people stuffing backpacks full of ballots into drop-boxes across the state. This will be even more explosive than the surveillance video showing them pulling suitcases of ballots out from under a table and scanning them multiple times in the middle of the night after telling all the watchers to leave due to a bogus "water main break."
"All hell's gonna break loose. We've got two organizations called OpSec and TrueTheVote, Heather Mullins from Real America's Voice who has been on the ground for us broke this story today on my radio show."

"Basically what we have is coming video, she's seen the video, it's not been released. There is coming video where there are basically about 240, what I'm gonna call ballot traffickers, in Georgia. And so what they did is… Is they went around to the drop-boxes all over the state, with each of them averaging about 24 drop-boxes each, and what they would do is they would go there in the middle of the night — this is all on video — and they would empty backpacks, with gloves on, full of ballots, into these drop-boxes."

"There's 240 different ballot traffickers a day identified as potential suspects here. Of the 240 they've averaged about 23 – 24 drop-boxes each. So, some did ten, some did 50. Now this is totally illegal."

– John Fredericks on Bannon's War Room
---
Heather Mullins Broke the Story on John Fredericks Radio Show
TrueTheVote spent several months investigating drop-boxes across multiple states. They purchased and obtained over 27 Terabytes of geospatial and temporal data from cell phones that allows them to track movement of people around these drop-boxes in GA, AZ, PA, MI and WI. In AZ and GA over 200 suspected ballot traffickers stuffing ballot boxes in the middle of the night, on video. The video is being cleared and should drop shortly.
Stay tuned here and we'll post the video as soon as it drops!
---
True The Vote Conducting Massive Clandestine Voter Fraud Investigation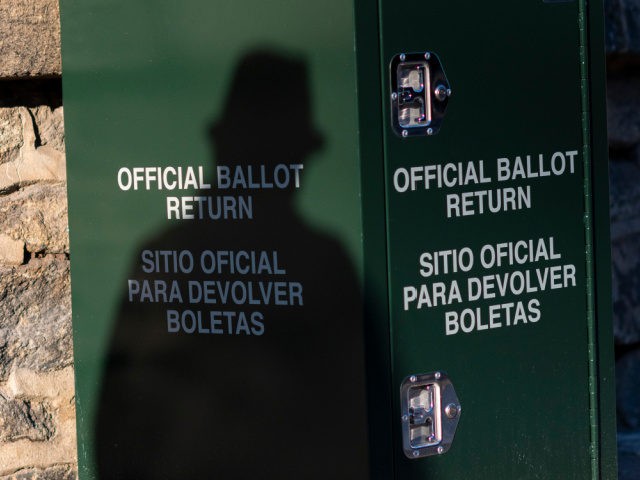 Breitbart had broken some details about this story last week.
True The Vote has spent the last several months since late last year collecting more than 27 terabytes of geospatial and temporal data—a total of 10 trillion cell phone pings—between Oct. 1 and Nov. 6 in targeted areas in Georgia, Arizona, Michigan, Wisconsin, Pennsylvania, and Texas. The data includes geofenced points of interest like ballot dropbox locations, as well as UPS stores and select government, commercial, and non-governmental organization (NGO) facilities.

"From this we have thus far developed precise patterns of life for 242 suspected ballot traffickers in Georgia and 202 traffickers in Arizona," True The Vote's document says. "According to the data, each trafficker went to an average of 23 ballot dropboxes."

In other words, what the document says is that True The Vote was able to take cell phone ping data on a mass wide scale and piece together that several people—suspected ballot harvesters—were making multiple trips to multiple drop boxes, raising potential legal questions in a number of these states.

From there, the document continues, True The Vote gathered surveillance video on the drop boxes in Georgia and is attempting to gather similar such surveillance video from other states. The document states that True The Vote has obtained one full petabyte of surveillance footage on drop boxes—two million minutes of video—which it says is broken into 73,000 individual video files. The group is expected to begin releasing some of these videos, which purportedly show the same people going multiple times to the same drop boxes, in the coming weeks.

"We are building out video stories and have compiled videos of individuals stuffing ballot dropboxes with stacks of ballots, individuals depositing ballots in multiple dropboxes, unauthorized coordination between government workers engaged in the exchange of ballots, and several other tranches of video that capture unusual patterns such as the wearing of gloves to deposit ballots, taking pictures of ballot deposits, etc.," True The Vote's document says.

– Read the full story by Matthew Boyle at Breitbart
---
True The Vote Update on the Breitbart Story
True the Vote released a statement confirming and providing more details about the Breitbart story.
Earlier this week, a document I'd written regarding one of our research projects made its way into an article published by Breitbart.It is about ballot trafficking. The report is accurate.

Ballot trafficking is one of three investigations undertaken by True the Vote in particular areas of interest. We have not spoken publicly of these investigations for various reasons, but primarily because the work is ongoing and time is short.

What follows is a brief statement about the ballot trafficking project, why we did what we did, what we are finding, and what comes next.

This is just the beginning.

– True the Vote
What We Found
Our findings reveal overwhelming evidence of ballot trafficking, some of which is highlighted in the article. We have much more.

All our research, including suspected locations where ballots were delivered, processed, and distributed, along with the individual devices associated, has been submitted in the form of a formal complaint, along with all data, to the FBI. Briefings have been provided to state law enforcement and political leadership in several states. These conversations will continue to broaden in the coming days.

We've also acquired over a petabyte of video surveillance data. The quality of this video is inferior overall; lighting is bad, cameras are poorly positioned, timestamps are manipulated, key timeframes are often missing. Nevertheless, we are working video by video, using proprietary AI-based code we've written to screen the over 100,000 clips in our possession. The result? We are successfully finding video evidence that corroborates the digital data and supports the need for full investigations by law enforcement.

Our novel approach offers never before seen insights into the exploitation of America's elections.
What comes next?
To date, law enforcement has not taken action.

Make no mistake, what we have found will be made known. If law enforcement doesn't initiate investigations, we have plans to release all data, all video, publicly.

– True the Vote
American Patriots across the country, and the world, await what comes next…
Pop some popcorn!
& STAY TUNED!
---
---
---
If You Enjoyed this Post PLEASE SHARE IT!
Let us know with a comment below, subscribe to our blog, visit our sponsors and bookmark and use our Amazon.com link the next time you buy anything on Amazon!
We may earn a small fee from the links on this site, at NO additional cost to you.
THANK YOU FOR YOUR SUPPORT!
– PatriotBites.com