The out of control radical leftists have really lost their minds now. They have become all consumed with trying to find racism everywhere they look. They have so embraced the anti-American, anti-Free-Speech "cancel culture" that they have now reached the height of absurdity and have banned Dr. Seuss books, after apparently running out of statues of George Washington, Theodore Roosevelt and Abraham Lincoln to pull down. So now in addition to burning bibles, the radical leftists are now banning books, including children's books. It's time for Americans to stand up and speak out against this insanity.
"Those who look at the world through race colored glasses, are the real racists."

-PatriotBites
To highlight such absurdity, I present the above parody image with the following poem.
My Multicolor Glasses
by Dr. Sluice

It does not matter, what you do.
It does not matter, what is true.

These multicolor glasses, that I wear.
Show me things, that are not there.

They let me take, great offense.
So I can ban, common sense.

They put folks, in colored boxes.
So I can treat, some like poxes.

Now we can all, wear these glasses.
Then we can all, act like asses.

-PatriotBites
---
DAILY BROADSIDE | DR. SEUSS IS CANCELLED BY WOKE GRIEVANCE MONGERS
But Dr. Seuss and his books have come under increasing criticism in recent years because some of his drawings are claimed to be racist and allegedly have "racial undertones." Learning for Justice, a radical left-wing educators group that operates as "a project of the Southern Poverty Law Center," (and formerly known as "Teaching Tolerance") is the organization advocating against Dr. Seuss.

– Dave Olsson
---
Dr. Seuss books' sales soar after 6 titles canceled for 'racist' imagery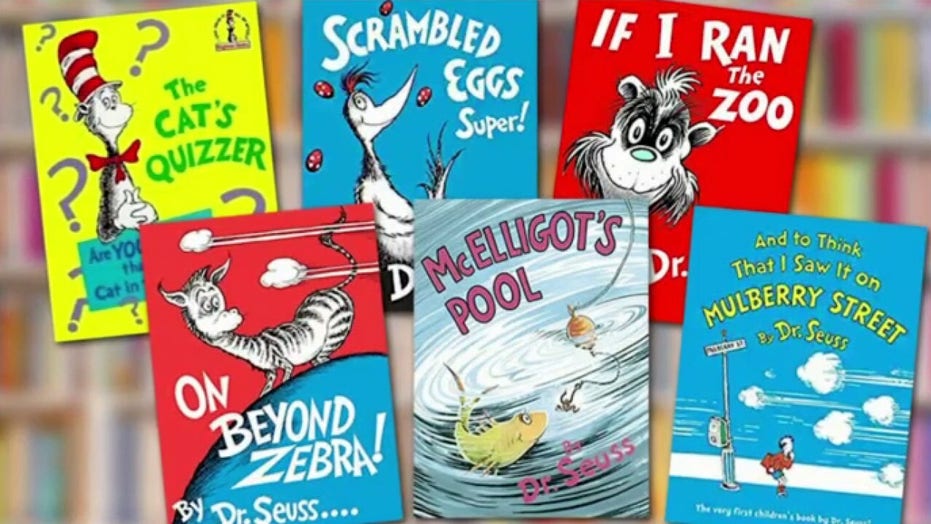 Used copies of the now out-of-print books were being priced by independent sellers on Amazon for hundreds of dollars.

One seller had priced a "good" hardback copy of "The Cat's Quizzer" at $900.

Online marketplace eBay Inc. said it is working to prevent the resale of the six out-of-print books, although hundreds of listings were still on the website as of Thursday. Many of the listings referenced the books being "banned."

One listing was offering four of the books for $2,000.

– FoxNews
---
If You Enjoyed this Post PLEASE SHARE IT!
Let us know with a comment below, subscribe to our blog, visit our sponsors and bookmark and use our Amazon.com link the next time you buy anything on Amazon!
We may earn a small fee from the links on this site, at NO additional cost to you.
THANK YOU FOR YOUR SUPPORT!
– PatriotBites.com