First the most accurate pollster of 2016, the Trafalgar Group, analysis suggested a Trump Win of at least 275 electoral votes. Then the Gallup Poll showed 56% of Americans are better off now than they were four years ago and they thought Trump would win. Now JPMorgan's Kolanovic analyzes how voter registration shifts often translate into election wins. He shows that voter registration shifts in the battleground states could lead to a battleground sweep for President Trump's reelection. The massive voter motivation we've been seeing with spontaneous Trump Caravans and Boat Parades from coast to coast as well as massive Trump rallies starting up again, in contrast to Biden failing to even generate small gatherings also bodes well for a Trump win. So, even though the Fake Polls of the Democrat-Media Complex Fake News say Biden will win, Trump may indeed be on the path for another shocking upset victory on November 3rd.
If you can't make it to an awesome Trump Rally, then jump in your car and join a Trump Caravan! Here's a list of Trump Caravans across the nation in the final weekend! #MAGAA
Get out there and VOTE A BIG RED WAVE FOR TRUMP 2020!
---
JPMorgan's Kolanovic Has A Warning For Those Expecting A Crushing Biden Victory
Via ZeroHedge
JPMorgan's top quant Marko Kolanovic wrote and interesting note yesterday in which he said that clients have been asking him "what data in addition to polls are available to assess possible US election outcomes in various states."

To answer this question, Kolanovic said that he looked at the historical changes in voter registration data and back-tested their relevance to election outcomes.

Why? Because according to Marko, it is intuitive that "if more voters register for a party, that they will also vote for that party." However, being a quant, Kolanovic immediately focused on the causative, not correlative aspects of this observation, and as he puts it, "the question is how significant the relationship is and what is the "beta" of additional registered voters to actual votes." The chart below shows data for seven battleground states that provide these data and presidential elections over the past 20 years.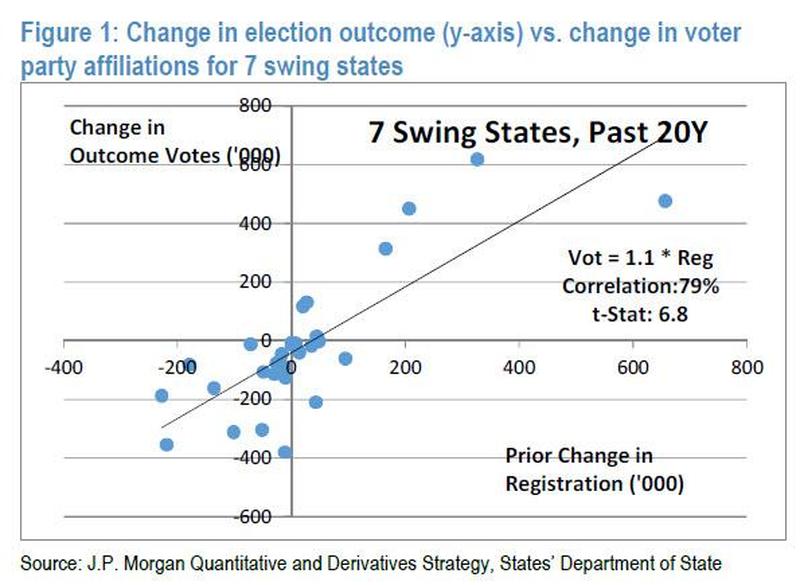 Finally, the punchline: what is the current change in voter registration over the past four years in swing states? This is shown in the table below.
Read the rest of the story on ZeroHedge
---
Prepare for Leftist's Heads to Explode on Nov. 3rd.
Cue all the leftist heads exploding again! But this time he's gotten so far into their heads that when they explode they'll now write TRUMP 2020 in the sky!
---
If You Enjoyed this Post PLEASE SHARE IT!
Let us know with a comment below, subscribe to our blog, visit our sponsors and bookmark and use our Amazon.com link the next time you buy anything on Amazon!
We may earn a small fee from the links on this site, at NO additional cost to you.
THANK YOU FOR YOUR SUPPORT!
– PatriotBites.com