WOW! If you thought the 30,000+ car Latinos for Trump Caravan in Miami on October 10th was BIG get a load of the MASSIVE RECORD BREAKING 55,000+ car Latinos for Trump Caravan that erupted in Miami on October 18th! It was INCREDIBLY HUUUUUGE! Many of these Latinos have seen socialism in action and have fled it for America. They don't want to see Joe Biden turn America into a socialist hell-hole similar to where they fled.
Sleepy Joe has retreated to hide in his basement bunker while the fallout from Hunter Biden's email bombshells explode all around his imploding campaign. Meanwhile the enthusiasm for this President is exploding so much that it's shooting to the moon!
This massive groundswell of support particularly among Latinos could be the key to another Trump Victory!
This could result in a BIG win for Trump's re-election!
If you can't make it to an awesome Trump Rally, then jump in your car and join a Trump Caravan! Here's a list of Trump Caravans across the nation in the final weekend! #MAGAA
Get out there and VOTE A BIG RED WAVE FOR TRUMP 2020!
---
Trumps Greatly Growing Support Among Latinos and Blacks Could Be the Key to Another "Trump Miracle" VICTORY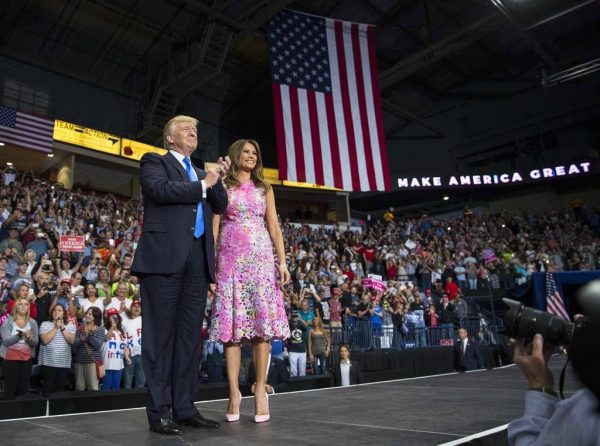 Trump could well receive a historic level of support from Latino Voters in 2020. In Florida, a NBC/Marist poll had Trump leading among Latinos 50% to 46% over Biden, whereas, in 2016, Hillary won among Latinos in Florida 62% to 35%. That would be a 15% swing toward Trump if it held up on Election Day.

After the first debate between Biden and Trump, a Telemundo poll showed Trump winning the debate overwhelmingly 66% to 34%. Snap media polls tend to reflect the sentiment of their viewers. Thus, it is no surprise that CNN viewers said Biden won the debate. The fact that Telemundo viewers decisively picked Trump as the winner, along with polls like those cited above in Florida, portend Trump getting the highest ever Latino support of any Republican presidential candidate.

– Michael Snyder, End of the American Dream
In September, according to polling done by Rasmussen, Trump's approval rating among African Americans reached 45%. Keep in mind that President Trump only received 8% of the Black vote in 2016. If Trump received just 16% of the Black vote this November, let alone an even higher number, that would all but secure states like Michigan for Trump.

– Michael Snyder, End of the American Dream
---
Latinos for Trump Beats Previous 30,000 Car Record with 55,000 Car Record Breaking Trump Caravan
---
Trump Caravans are Even Erupting in Puerto Rico!
---
YUUGE 580+ Video Playlist of Trump Car Parades Across America
---
MASSIVE 670+ Video Playlist of Trump Boat Parades from Coast to Coast
---
BIGLY 160+ Video Playlist of Trump Rallies Bursting with Voter Enthusiasm in the Home Stretch!
---
Trump Train is Coming on November Three and Leftist Heads will Explode and Write TRUMP 2020 in the Sky!
Everyone remembers how leftists across America screamed at the sky in exasperation after the 2016 election of Donald Trump. Now when the silent majority rises up to give him a massive landslide re-election in 2020 the leftist heads will simply explode nationwide. But this time President Trump has gotten so far into their heads that when those heads explode, they will write TRUMP 2020 across the sky! Giving them a real reason to scream at the sky! LOL!
---
If You Enjoyed this Post PLEASE SHARE IT!
Let us know with a comment below, subscribe to our blog, visit our sponsors and bookmark and use our Amazon.com link the next time you buy anything on Amazon!
We may earn a small fee from the links on this site, at NO additional cost to you.
THANK YOU FOR YOUR SUPPORT!
– PatriotBites.com