In the above video, from 10/16/22, Tucker Carlson and Miranda Devine report on the confirmation of the Hunter Biden emails from multiple sources. The Fake News Media and Big Tech gatekeepers of the Democrat-Media Complex have been furiously attempting to squash this story since it first broke. But the truth won't be squelched. This story is rapidly exploding as more emails are being released and CONFIRMED from multiple sources. FoxNews tracked down two of the recipients on one thread of emails who both confirmed that the emails were indeed authentic. They further confirmed what many had previously expected, namely that "the big guy" mentioned, did indeed, refer to VP Joe Biden himself, directly linking Joe Biden to the alleged pay to play schemes.
These potential crimes of massive political corruption threaten to engulf and swamp Joe Biden's now floundering campaign. And the coverup may also take down their corrupt Fake News Media and Big Tech collaborators as they try to actively suppress the truth from being exposed. Once the public realizes the extent they will go to blatantly try to suppress the truth, with LIES, the Fake News Media and Big Tech platforms will lose whatever slim shred of credibility that they may have had left.
We can't let such corruption take the White House SO VOTE TRUMP 2020!
---
'This is China, Inc.': Emails Reveal Hunter Biden's Associates Helped Communist-Aligned Chinese Elites Secure White House Meetings with VP Joe Biden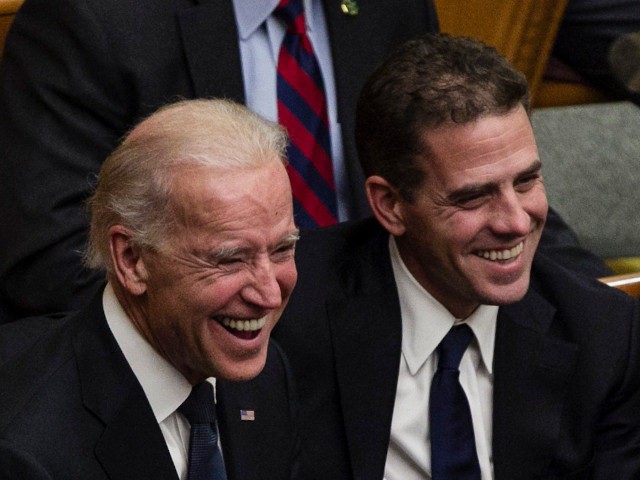 Peter Schweizer and Seamus Bruner report on Breitbart
Newly obtained emails from a Hunter Biden business partner lay out in detail how the Vice President's son and his colleagues used their access to the Obama-Biden administration to arrange private meetings for potential foreign clients and investors at the highest levels in the White House. These never-before-revealed emails outline how a delegation of Chinese investors and Communist Party officials managed to secure a private, off-the-books meeting with then-Vice President Joe Biden.

In a 2011 email, Hunter Biden's business associates also discussed developing relations with what one called "China Inc." as part of a "new push on soft diplomacy for the Chinese." These emails are completely unconnected to the Hunter Biden emails being released by the New York Post.

These and more explosive never-before-revealed emails were provided to Schweizer by Bevan Cooney, a one-time Hunter Biden and Devon Archer business associate. Cooney is currently in prison serving a sentence for his involvement in a 2016 bond fraud investment scheme.

In 2019, Cooney reached out to Schweizer after becoming familiar with the revelations in his 2018 book Secret Empires. Cooney explained that he believes he was the "fall guy" for the fraud scheme and that Archer and Hunter Biden had avoided responsibility.

Archer, who was also convicted in the case, saw a federal judge vacate his conviction. But an appellate court overturned the lower court judge's ruling, reinstating Archer's conviction in the case. Archer, Hunter Biden's longtime business partner, awaits sentencing.

Cooney, their associate who is currently serving a prison sentence on his conviction in the matter, later reestablished contact with Schweizer through investigative journalist Matthew Tyrmand. From prison, Cooney provided Schweizer with written authorization, his email account name, and password to his Gmail account to retrieve these emails. He authorized, in writing, the publication of these emails— notable because it is the first time a close associate has publicly confirmed Hunter's trading on his father's influence.

The emails offer a unique window into just how the Biden universe conducted business during the Obama-Biden Administration. These associates sought to trade on Hunter Biden's relationship with, and access to, his father and the Obama-Biden White House in order to generate business.

For instance, on November 5, 2011, one of Archer's business contacts forwarded him an email teasing an opportunity to gain "potentially outstanding new clients" by helping to arrange White House meetings for a group of Chinese executives and government officials. The group was the China Entrepreneur Club (CEC) and the delegation included Chinese billionaires, Chinese Communist Party loyalists, and at least one "respected diplomat" from Beijing. Despite its benign name, CEC has been called "a second foreign ministry" for the People's Republic of China—a communist government that closely controls most businesses in its country. CEC was established in 2006 by a group of businessmen and Chinese government diplomats.

– Peter Schweizer and Seamus Bruner, Read the full article on Breitbart
"I know it is political season and people are hesitant but a group like this does not come along every day," an intermediary named Mohamed A. Khashoggi wrote on behalf of the CEC to an associate of Hunter Biden and Devon Archer. "A tour of the white house and a meeting with a member of the chief of staff's office and John Kerry would be great," Khashoggi said before including what should have been a major red flag: "Not sure if one has to be registered to do this." Presumably, Khashoggi meant a registered lobbyist under the Foreign Agents Registration Act (FARA).
"This is China Inc," wrote Khashoggi in the email, referring to the delegation of Chinese billionaires.

"Biggest priority for the CEC group is to see the White House, and have a senior US politician, or senior member of Obama's administration, give them a tour… If your friend in DC can help, we would be extremely grateful," Khashoggi emphasized.

Hunter Biden and Devon Archer apparently delivered for the Chinese Communist Party-connected industrial elites within ten days .
The Obama-Biden Administration archives reveal that this Chinese delegation did indeed visit the White House on November 14, 2011, and enjoyed high-level access. The delegation included approximately thirty members, according to White House visitor logs. But those records also obscure perhaps the most important item for the Chinese delegation: a meeting with Vice President Joe Biden himself.
Curiously, the Obama-Biden visitor logs do not mention any meeting with Vice President Joe Biden. But the Vice President's off-the-books meeting was revealed by one of the core founders of the CEC. In an obscure document listing the CEC members' biographies, CEC Secretary General Maggie Cheng alleges that she facilitated the CEC delegation meetings in Washington in 2011 and boasts of the Washington establishment figures that CEC met with. The first name she dropped was that of Vice President Joe Biden.

– by Peter Schweizer and Seamus Bruner, Read the full report on Breitbart
---
Source on alleged Hunter Biden email chain verifies message about Chinese investment firm
Sources have told Fox News that 'the big guy' is a reference to the former vice president Joe Biden.
One of the people on an explosive email thread allegedly involving Hunter Biden has corroborated the veracity of the messages, which appear to outline a payout for former Vice President Joe Biden as part of a deal with a Chinese energy firm.

One email, dated May 13, 2017, and obtained by Fox News, includes a discussion of "remuneration packages" for six people in a business deal with a Chinese energy firm. The email appeared to identify Hunter Biden as "Chair / Vice Chair depending on agreement with CEFC," in an apparent reference to now-bankrupt CEFC China Energy Co.
---
From: James Gilliar
Subject: Expectations
Date: May 13, 2017 at 2:49AM
To: Tony Bobulinski
Cc: Rob Walker, Hunter

As I had already alluded we have discussed and agreed the following remuneration packages

Chair / Vice Chair depending on agreement with CEFC ( Hunter ) 850
CEO ( Tony ) 850
James ( EEIG ) international consultancy agreement business development (James) 500,000
Rob 500
Jim Unknown
Sanan ( Under EEIG agreement ) 72,000

Hunter has some office expectations he will elaborate
James needs travel of 15,000 k a month ( 180,000 PA )

At the moment there s a provisional agreement that the equity will be distributed as follows

20 H
20 RW
20 JG
20 TB
10 Jim
10 held by H for the big guy ?

– Extracts from one email published by FoxNews, DailyMail and NYPost
---
The email includes a note that "Hunter has some office expectations he will elaborate." A proposed equity split references "20" for "H" and "10 held by H for the big guy?" with no further details. Fox News spoke to one of the people who was copied on the email, who confirmed its authenticity.

Sources told Fox News that "the big guy" is a reference to the former vice president. The New York Post initially published the emails and other controversial messages that Fox News has also obtained.

Read the full story on FoxNews
---
---
Computer Repair Shop Has Work Order for Laptop with Hunter Biden's Signature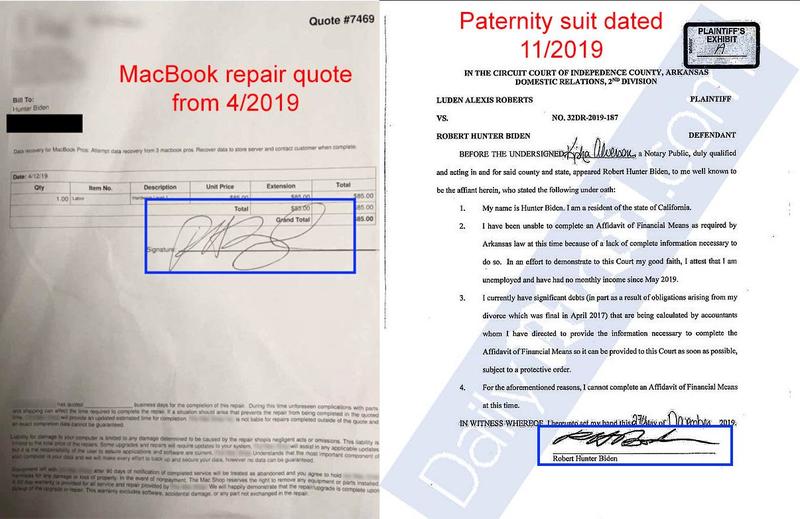 Meanwhile, the Delaware computer repair shop owner who believes Hunter dropped off three MacBook Pros for data recovery has a signed work order bearing Hunter's signature. When compared to the signature on a document in his paternity suit, while one looks more formal than the other, they are a match.

– Via ZeroHedge
---
Director of National Intelligence Debunks Democrat-Media Complex's Latest Russia Hoax that Hunter Emails are "Russian Disinformation"
In the above Fox Business video, from 10/19/20, Director of National Intelligence, John Ratcliffe, joins Maria Bartiromo and confirms that "Hunter Biden's laptop is not part of some Russian disinformation campaign."
It appears the "Russia, Russia, Russia" cries from Adam Schiff and his dutiful media peons is dead (we can only hope) as Director of National Intel John Ratcliffe just confirmed to Foxx Business' Maria Bartiromo that:

"Hunter Biden's laptop is not part of some Russian disinformation campaign."

As Politico's Quint Forgey details (@QuintForgey), DNI Ratcliffe is asked directly whether accusations leveled against the Bidens in recent days are part of a Russian disinformation effort.

– Via ZeroHedge
"Let me be clear. The intelligence community doesn't believe that because there is no intelligence that supports that."

"We have shared no intelligence with Chairman Schiff or any other member of Congress that Hunter Biden's laptop is part of some Russian disinformation campaign. It's simply not true."

"And this is exactly what I said would I stop when I became the director of national intelligence, and that's people using the intelligence community to leverage some political narrative."

"And in this case, apparently Chairman Schiff wants anything against his preferred political candidate to be deemed as not real and as using the intelligence community or attempting to use the intelligence community to say there's nothing to see here."

"Don't drag the intelligence community into this. Hunter Biden's laptop is not part of some Russian disinformation campaign. And I think it's clear that the American people know that."

– Director of National Intelligence, Ratcliffe
---
Full Story Behind Hunter's Laptop Debunks Latest Russia Conspiracy Theory
Wow! You would think that after peddling false Russia Collusion conspiracy theories for four years that the Fake News Media and Big Tech gatekeepers wouldn't try it yet AGAIN! Apparently they think their readers and followers really are stupid enough to keep buying their "RUSSIANS DID IT!" conspiracy theories to explain away all their corruption. A simple review of the facts and timelines easily debunks their latest Russian hoax.
Shared from ZeroHedge
As the Hunter Biden laptop scandal threatens to throw the 2020 election into chaos with what appears to be solid, undisputed evidence of high-level corruption by former Vice President Joe Biden and his son Hunter, the same crowd which peddled the Trump-Russia hoax is now suggesting that Russia is behind it all.

To wit, House Intelligence Committee Chairman Adam Schiff, who swore on National television that he had evidence Trump was colluding with Russia – now says that President Trump is handing the Kremlin a "propaganda coup from Vladimir Putin."
Yet, if one looks at the actual facts of the case – in particular, that Hunter Biden appears to have dropped his own laptops off at a computer repair shop, signed a service ticket, and the shop owner approached the FBI first and Rudy Giuliani last after Biden failed to pick them up, the left's latest Russia conspiracy theory is quickly debunked.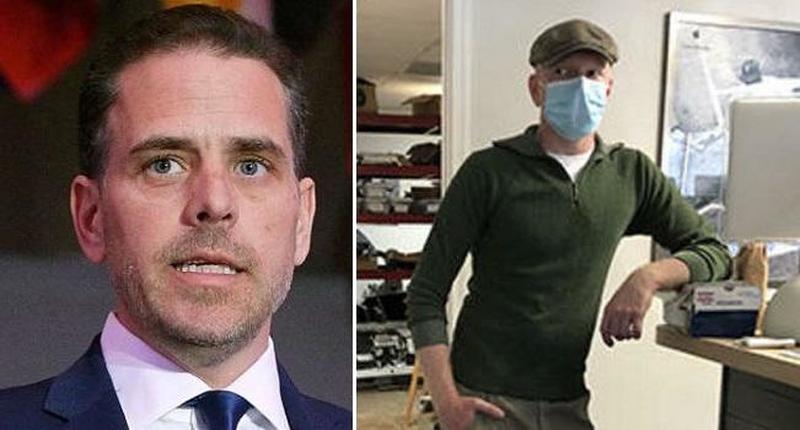 This story is very simple–Hunter Biden dropped off three computers with liquid damage at a repair shop in Wilmington, Delaware on April 12, 2019. The owner, John Mac Issac, examined the three and determined that one was beyond recovery, one was okay and the data on the harddrive of the third could be recovered. Hunter signed the service ticket and John Paul Mac Issac repaired the hard drive and down loaded the data. During this process he saw some disturbing images and a number of emails that concerned Ukraine, Burisma, China and other issues. With the work completed, Mr. Mac Issac prepared an invoice, sent it to Hunter Biden and notified him that the computer was ready to be retrieved. Hunter did not respond. In the ensuing four months (May, June, July and August), Mr. Mac Issac made repeated efforts to contact Hunter Biden. Biden never answered and never responded. More importantly, Biden stiffed John Paul Mac Issac–i.e., he did not pay the bill.

– Read the full story on ZeroHedge
---
Senate Demands Answers if FBI Had Hunter Biden's Laptop While President Trump was Being Falsely Impeached Over Ukraine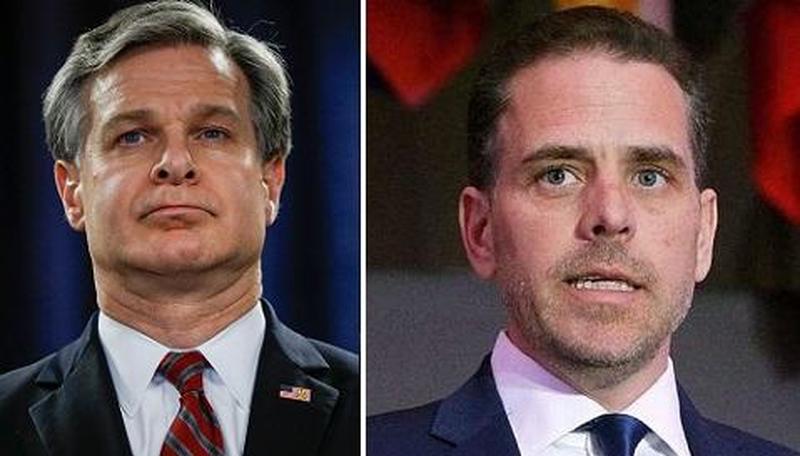 Senate Homeland Security Committee Chairman Ron Johnson (R-WI) has fired off a Saturday letter to FBI Director Chris Wray demanding answers over the agency's handling of Hunter Biden's laptop.

According to the letter, after Johnson released his a report on Hunter Biden's activities abroad which raised "counterintelligence and extortion concerns," Johnson's committee was contacted by a whistleblower – ostensibly Delaware computer shop owner John Paul Mac Issac – who "informed my staff that he had possession of a laptop left in his business by Hunter Biden."

Issac told Johnson that "he provided its contents to the Federal Bureau of Investigation (FBI) in response to a December 9, 2019 grand jury subpoena," to which the FBI responded that they "would not confirm or deny any information identified by the committee." In other words, Wray's FBI stonewalled when confronted with direct questions by the Senate Homeland Security Committee.

– Read the full story at ZeroHedge
---
If You Enjoyed this Post PLEASE SHARE IT!
Let us know with a comment below, subscribe to our blog, visit our sponsors and bookmark and use our Amazon.com link the next time you buy anything on Amazon!
We may earn a small fee from the links on this site, at NO additional cost to you.
THANK YOU FOR YOUR SUPPORT!
– PatriotBites.com